Background and History
Few American coins are as rare and celebrated as the 1822 Half Eagle. Despite an original mintage of 17,796 pieces, there are only three known survivors. Two of these permanently reside within the collection of the Smithsonian Institution, leaving just one example available to private collectors. The single privately owned piece has not been seen at auction for more than 25 years, adding to the allure and desirability of this famous issue.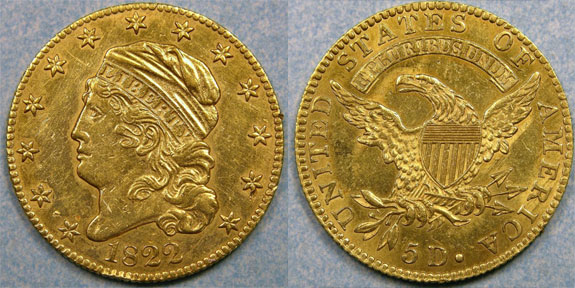 Early American gold coinage consisted of three different denominations authorized under the Coinage Act of 1792. The quarter eagle with a value of $2.50 represented the smallest gold denomination issued by the United States Mint until the later introduction of the gold dollar. The half eagle with a value of $5 might have been considered the "work horse" gold coin of the era. It had the highest mintages and proved to be the most popular within commerce, both domestically as well as internationally. The largest originally authorized denomination was the eagle with a value of $10. It was introduced in 1795, but production ceased after 1804 and did not resume until the late 1830's. Essentially, this left the half eagle as the largest denomination struck by the United States Mint for much of its early history.
The half eagle underwent numerous design changes during the early years of production. The initial design by Robert Scot featured a depiction of Liberty wearing a cap and with her bust visible and partially draped. The initial reverse featured a small eagle holding a wreath and perched on a branch. After a few years, the reverse design was replaced by a heraldic eagle, also designed by Scot. In 1807, a new obverse and reverse designed by John Reich were introduced featuring a new rendition of Liberty on the obverse and an eagle on the reverse. From 1813, the obverse portrait was altered to include only Liberty's head and neck with some of the features modified.
Despite the fact that United States gold coins were denominated, most actual trading, particularly in overseas commerce, was based on the content and weight of the coins. While the United States did not issue any of its coins particularly for overseas trade, many were exported and subsequently melted for their gold content. When the intrinsic value of the $5 gold coin had risen to $6, the melting of early American gold coins became even more widespread. Even the recently issued gold coins were melted in massive quantities. This phenomenon served to enhance the rarity of many early gold issues, but none so much as the 1822 half eagle.
Coin Mintage
Mint records indicate a total mintage of 17,996 pieces of the 1822 Half Eagle. Within the series this is not an extraordinary number by any means. Both 1823 and 1824 had lower mintages, while other years did not see a much larger quantity produced. Yet, while those dates are rare, they are represented by a far greater number of survivors compared to the 1822 half eagle. There are several explanations which have been offered for this unusual situation.
First of all, these early United States gold coins were heavily exported to overseas countries, in particular Europe and China. Once overseas in most cases the coins were melted and never returned, although occasionally a bank vault is opened which contains some rare United States gold coins. No 1822 half eagles, however, have ever been found in overseas countries. While this scenario is very well possible and might have played a part in the creation of this ultra-rarity, the next two possibilities are more likely.
Despite the lack of any supporting Mint documentation, it is very well possible that the majority of 1822 half eagles were retained at the Mint for a number of years and were subsequently melted. This would be a situation that is very similar to that of some of the double eagles of the 1920s and early 1930s. Despite being produced in reasonable quantities, some of these dates are extreme rarities represented by only a few dozen examples. We know that melting played an important role in the case of these double eagles, as confirmed by Mint documentation and supporting stories from people present at the Mint at this time. For the 1822 half eagle, however, these stories are not present, although this possibility is still very plausible.
The last possibility is that the mintage of 17,996 is incorrect. We know that, for cost-saving reasons, dies of other years were often used to produce coins in years other than listed on the coins. Many series have had extensive research done to determine how many coins were truly minted for any particular issue. This can be done because certain dies were used throughout various years and die states can provide valuable information. Combined with delivery records, researchers have been able to determine full emission sequences of many early American coins. In case of the 1822 half eagle, however, this is more difficult, as both obverse and reverse dies were only used in this year. Yet, this appears to be the most plausible theory to explain the extreme rarity of this issue.
Finest Known and Value
Because of the extreme rarity of this issue and the fact that only one example is in private hands at this time it is extremely difficult to determine any reliable value for the 1822 half eagle. No recent sales records are known because the coin has not been sold for over a quarter of a century. Estimates of the current value of the 1822 half eagle range from an estimated five million to over ten million dollars. When sold it might set a new record for any United States coin ever publicly sold at auction. The coin is said to be presently in a prominent Texas collection and it is unknown if and when it will be sold next. It last sold in October 1982 for $687,500 and it is without doubt that this coin would prove to have been an excellent investment.
As for the finest known, it is not too difficult to grade all three known examples. The Eliasberg specimen, the only known example in private hands (with a pedigree dating back to the mid 19th century), has an estimated grade of EF-45, possibly AU by modern grading standards. It clearly is the finest known. The two Smithsonian examples, one which came out of the Lilly collection (which was donated to the Smithsonian Institution) grade VF and EF. The VF example is said to be part of the collection assembled by former Mint director Adam Eckfeldt and clearly circulated for awhile. Unfortunately, like many of the coins of the Smithsonian collection, both have been cleaned.
Ever since numismatics became more popular in the 1850s, the 1822 half eagle has been recognized as one of the rarest of all American coins. For over 100 years no additional examples have been found and it seems very unlikely that one will ever turn-up. However, if another example does turn up, it would be ranked as one of the greatest numismatic finds of the century, or perhaps of all-time.