Background and History
The 1793 Chain Cent (Buy on eBay) is amongst the most famous and shortest-lived issues of American coinage ever produced. Struck during the first year of regular coinage production at the United States Mint in Philadelphia, its design was criticized in the year of issue, but has come to be cherished by modern collectors. While circulating examples of this historic rarity are available at more accessible price levels, one of the finest known examples sold at auction for more than $2.3 million.
All Chain Cents were struck during the early months of 1793, from late February (one source lists Washington's Birthday as the starting date) until mid-March 1793. A reasonable number of coins were struck before production was halted due to a shortage of copper. This was a problem which would haunt the early United States Mint in Philadelphia for many years to come, however, for the time being the United States had its first coinage of cents.
The Chain Cent was supposedly designed by Henry Voigt, although facts are scarce. As mandated by law, a visual representation of Liberty was portrayed on the obverse. The reverse featured a chain of fifteen links, representing each of the states in the Union at the time. The chain had been intended to indicate the strength of the Union, however some members of the public drew other connotations. Even in the late 18th century slavery was an issue in the United States, and the reverse design served as an unintended reminder. The representation of Liberty on the obverse was also criticized for its execution and her demeanor.
While production was halted due to the copper shortage, a new design was prepared and would be introduced when production resumed. Despite its brief run, the Chain Cent holds an important place in the history of American numismatics and continues to captivate collectors.
Coin Mintage
Unlike some of the other earliest coins struck at the United States Mint, the circumstances of the mintage of the 1793 Chain Cent are fairly well-known. A total of eight different deliveries were made, compromising five different varieties, with a total output of 36,103 coins. This might seem like a surprisingly high number for an issue which is considered to be a rarity. However, while the mintage is greater than some other early rarities, the demand far outweighs the supply at any given time. This is especially the case for choice specimens struck on problem-free planchets, which are rarely available.
There is one variety (Sheldon's NC-1, Breen's variety #5) that is virtually impossible to find in any condition. Only four are presently known to exist and offerings are truly a once in a lifetime opportunity. This variety can be identified by the spacing of the word LIBERTY on the obverse, which is wider than on any of the other known varieties. Sheldon, in his work Penny-Whimsy published in the 1950's (the major reference on early large cents), denoted it as non-collectible, which remains true to this day.
The four other varieties range from scarce to very scarce, but all are offered with some regularity. There are two entries in the Red Book (A Guide Book of United States Coins), one with the word AMERICA in full on the obverse while the other has it abbreviated to AMERI., which has been attributed to an engraving error when the first two words had been punched into the working die. That particular reverse die was only used on S-1, while all other die combinations used the other reverse die.
Finest Known and Values
Despite the heavy circulation of these pieces, it appears that some were saved since a number of high-quality pieces exist. As can be expected, most of these have toned to various shades of brown, although an extremely small number of Chain Cents still show a limited amount of red coloration. For a copper coin over 200 years old, this certainly is nothing short of a miracle!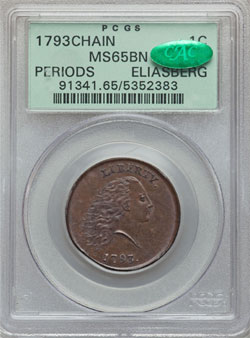 Arguably the finest known example is a specimen striking graded by PCGS as SP67. Struck from the earliest known die state on a pristine planchet with a superb strike, there is absolutely no doubt that this particular coin is something special. As for the regular strikings, PCGS and NGC have graded a few dozen examples in the mint state grades 60 to 67. While both grading services differentiate the AMERICA and AMERI. Varieties, both are extremely difficult to acquire in high grades. Generally speaking, Sheldon-1, the AMERI. variety, is less often encountered in high grade.
The demand for the 1793 Chain Cent by both large cent collectors and type set collectors has driven million-dollar prices at auction. In January 2015, an example graded PCGS MS-66 BN with CAC verification sold for $2,350,000. Other significant sales include an example graded PCGS MS-64+ BN with CAC verification which sold for $1,500,000 in January 2019, and an example graded PCGS MS-65 BN which sold for $1,380,000 in January 2012.
In general, any Chain Cent in AU or MS easily sells for six-figure sums. XF graded examples sell for approximately $40,000, depending on the variety and the overall eye-appeal of the coin. Prices gradually decline in the lower grades. As an example, a PCGS F-15 usually sells for about $20,000. Barely recognizable examples with porous and corroded surfaces typically sell for at least $2,000.