Background and History
When it comes to New Orleans double eagles, there are two major rarities that are usually named together in one sentence. These are the 1854-O and the 1856-O. Both have miniscule mintages and their rarity is similar, although the 1856-O (Buy on eBay) is usually considered to be the rarer of the two. However, due to unknown reasons, more high-grade examples of the 1856-O have survived, including a coin which has been determined to be a specimen striking, and is often considered to be the most desirable of all New Orleans double eagles.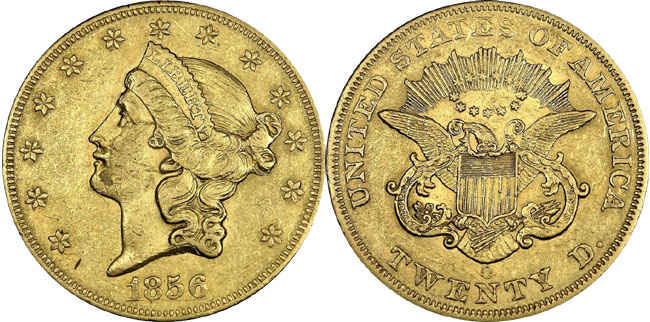 The New Orleans Mint depended on local gold supplies, sometimes coming from foreign sources, for the striking of double eagles. Prior to the opening of the San Francisco Mint in 1854 deposits primarily came out of the California gold fields, but once the Federal Mint had been opened in San Francisco the deposits fell sharply. As a result, the mintage levels for double eagles at the New Orleans Mint declined sharply in the mid 1850's.
With no coin collectors present in Louisiana (or most of the United States, for that matter) most double eagles entered circulation or were exported. With New Orleans being a major seaport town many were exported overseas, although in the case of the 1856-O double eagle there were few coins available to export anyway. Most of the other coins circulated among banks, often used as backing for currency, meaning that the public actually saw very few of the double eagles struck at the three Federal mints.
Key Date Coin Mintage
The 1856-O Double Eagle had one of the smallest mintages for the denomination, with a total output of just 2,250 pieces, or $45,000 in face value. Most double eagles, including select issues from the New Orleans Mint, saw production numbers many multiples of this. It should not come as a surprise that this is one of the rarest of all double eagles, only surpassed by a select number of issues (usually becoming rarities under completely different circumstances).
As most experienced collectors of New Orleans coinage will know, quality was not up to the best standards at the Southern-most Mint in the United States. Planchets were not always of the same quality as those from the Philadelphia or San Francisco Mint and coins were often weakly struck. Quality control was often inconsistent as the quantity of coins produced was often considered more important, despite the double eagle being the highest denomination struck in the United States, circulating all over the world.
Given these numerous issues, there is one 1856-O Double Eagle that stands apart from all other known examples of the issue. Not only is it the only example certified by PCGS in uncirculated condition, it is also the only specimen striking that has been certified for this issue. There are a number of branch Mint Proofs known from this period, all being extreme rarities, and this particular coin is close to being a branch Mint Proof. Its fields are fully reflective and the strike is the strongest ever seen on any 1856-O Double Eagle. The coin truly stands on its own.
The circumstances of that particular coin's creation are unknown. It resurfaced a few decades ago and seemed to have been in the family of Bienvenu, who was the superintendent of the New Orleans Mint in 1856, since its creation. Why he made this coin or had this coin created remains unknown. It might have been a personal celebration, a commemorative struck for an important visit, or for some other reason. Although we may never understand its full origin, it is surely is an intriguing coin.
Finest Known and Values
The specimen striking, certified by PCGS as SP-63, is without a doubt the finest 1856-O Double Eagle known to exist. The coin has been sold on numerous occasions over the last couple of years, realizing over 1.4 million dollars in its last sale, in May 2009. It now appears to be included in a major collection and will remain off the market for the foreseeable future.
When it comes to the regular circulation strikes, this issue still is a major rarity. An estimated 25-35 examples are known across all grades, although earlier estimates only counted a dozen or so. All of these are in circulated condition, with only a small number of AU-58 examples representing the finest of the circulation strikes. One of the NGC graded AU-58 pieces sold for $460,000 in July 2009, setting the record for a circulation strike of this issue. Other AU-58's have sold for sums very close to that level as well.
When it comes to purchasing an 1856-O Double Eagle one should expect to spend a minimum of six figures for a lower grade example, possibly impaired, with less than excellent eye appeal. The price goes up from there. Because New Orleans gold coins have become an increasingly popular collecting specialty, prices have been increasing the last couple of years as well. A problem free XF specimen with good eye-appeal now sells at auction for a mid $200,000 figure, at the minimum. These offerings, however, are extremely infrequent. There are no more than a few opportunities each year to purchase an 1856-O Double Eagle at public auction, in any grade, problem-free or not.